Sydney, Australia 2010 Vacation
My nephew Corey and his wife Ashleigh successfully completed their doctorates, so Carol and I rewarded them with foreign travel. They not only chose Australia, but also offered to bring their 4 year old daughter Emilie. My twin Ron and his wife Jean (Corey's parents) also accompanied us, making most days a party of seven. Travelling with this large group was a little new for me, but since everything was in English, I had no problems arranging the hotel, finding transportation, or reading the menus! We had a wonderful time, spending most of it in Sydney, with a day-trip to the local mountains.
The day before the flight out from LAX, I had apparently broken a small blood vessel in my thumb! The top half turned purple, so I visited my doctor the morning before we left, and he did not think it was a problem.
<![if !vml]>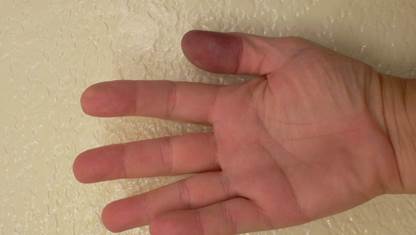 <![endif]>
After a 15 hour flight (leaving after 10pm) and a few more hours in Sydney, we took a ferry across the bay to the Taronga Zoo. It was a beautiful, bright day, perfect for getting over jet lag. Ashleigh and Corey tried to pose in front of the Opera House and Harbor Bridge, but no one was still quite awake.
<![if !vml]>
<![endif]>
The zoo was a good place to help us wake up, with cute animals. I don't remember what this one is.
<![if !vml]>
<![endif]>
Of course, when Jean sits next to Emilie, it is much easier to wake up and smile!
<![if !vml]>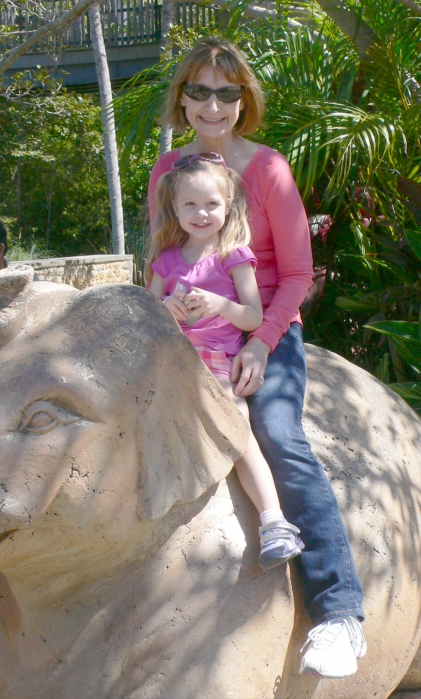 <![endif]>
We had done a lot of walking by mid-afternoon, so decided to take the cable car back down to the ferry. The ride was short, but offered great views of the harbor area below. We later spent lots of time at the Opera House and Harbor Bridge
<![if !vml]>

<![endif]>
After checking into The Menzies Hotel, we decided to eat at their main restaurant. This was the first of many special meals. I tried to eat a lot of seafood. This one was salmon with scallops and shrimp, garnished with pickled pears. I was a little sleepy and don't remember the other toppings, but do remember the dish was pretty good!
<![if !vml]>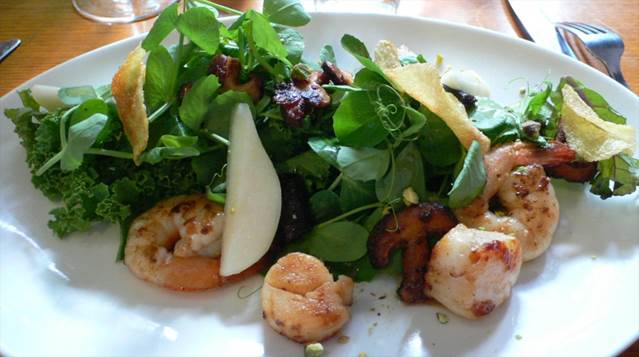 <![endif]>
Sunday morning was spent at the Royal Botanic Gardens, another nice day to spend outdoors. Corey and Emilie show the size of this nice sundial.
<![if !vml]>
<![endif]>
<![if !vml]>
<![endif]>
The Garden had lots of directional signs that included approximate walking times. However, when you are walking with some photographers and a 4-year old, the times don't really reflect reality!
<![if !vml]>
<![endif]>
The Garden also offered some great settings for personal photos with a world-famous background.
<![if !vml]>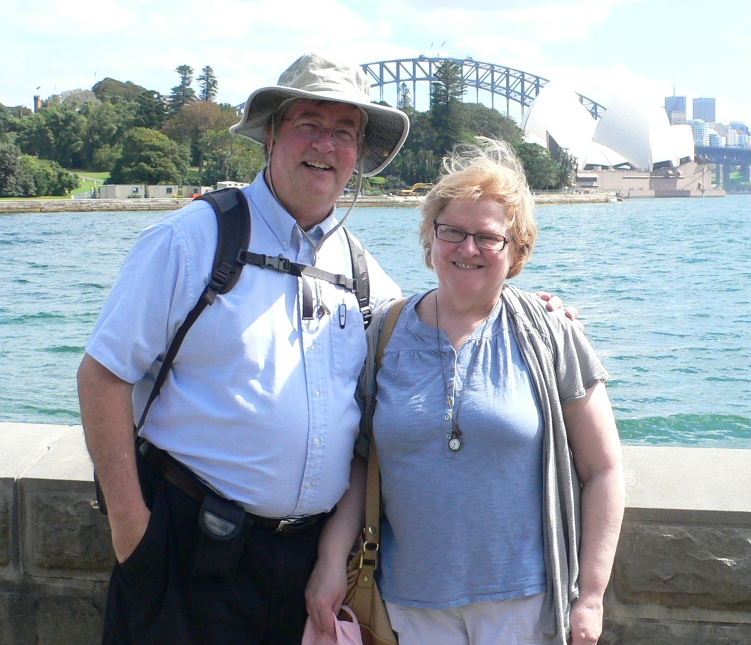 <![endif]>
If you zoom in the top of the bridge, you can see groups of climbers. That was my goal for Friday morning.
<![if !vml]>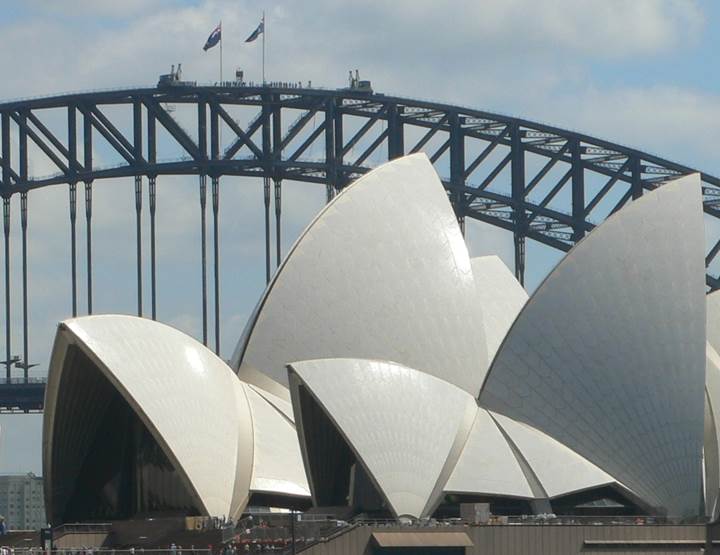 <![endif]>
One of the stopping points in the Botanic Garden peninsula was Mrs. Macquarie's chair. She loved sitting here and relaxing, so they carved a chair for her directly into the rock, with a nice harbor view.
<![if !vml]>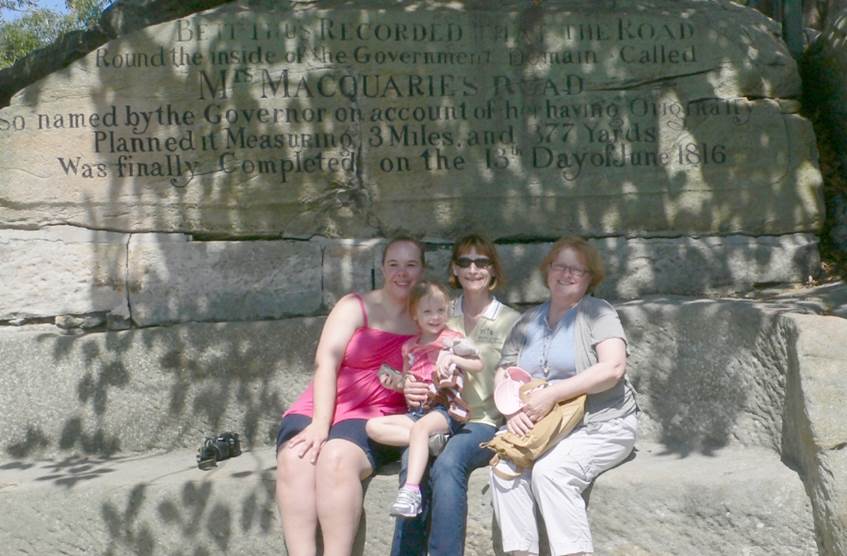 <![endif]>
For Sunday evening, Carol had researched the Hillsong Church. There are several locations in Sydney, and one was not too far from our hotel, with a shuttle bus from the Central train station directly to the church. The church is noted for its music program, so we were curious to see it for ourselves. What we got was a rock concert! The congregation was very diverse in age and ethnicity, but with a heavy weighting toward the younger demographic. After about 30 minutes of light show and loud music, a very enthusiastic preacher spoke for about 30 minutes, followed by a few more songs. Click on the photo to view a short MOV file (file is 12 MB - it might take a minute or so to download).
<![if !vml]>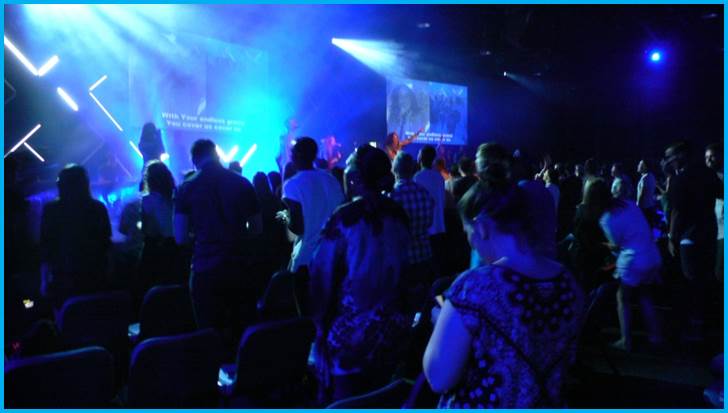 <![endif]>
Monday morning started at the Sydney Sea Life Aquarium. It was a little difficult to take some photos, but this is my best attempt at a duckbill platypus. It was only about 10" long – I had always imagined they were four or five times longer than that. Of course, that impression was probably based on childhood comic books.
<![if !vml]>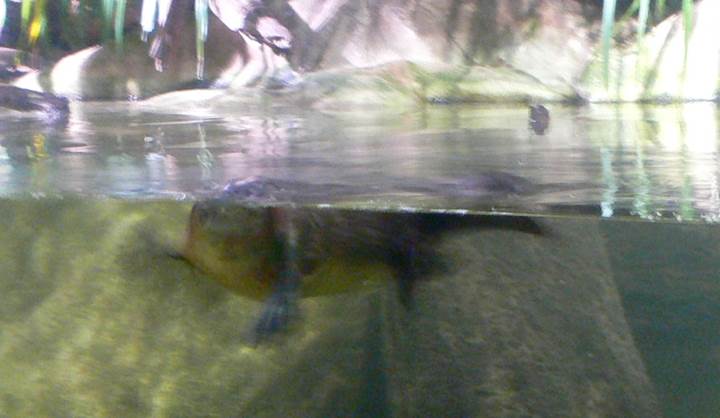 <![endif]>
Jelly fish with some fluorescent lighting.
<![if !vml]>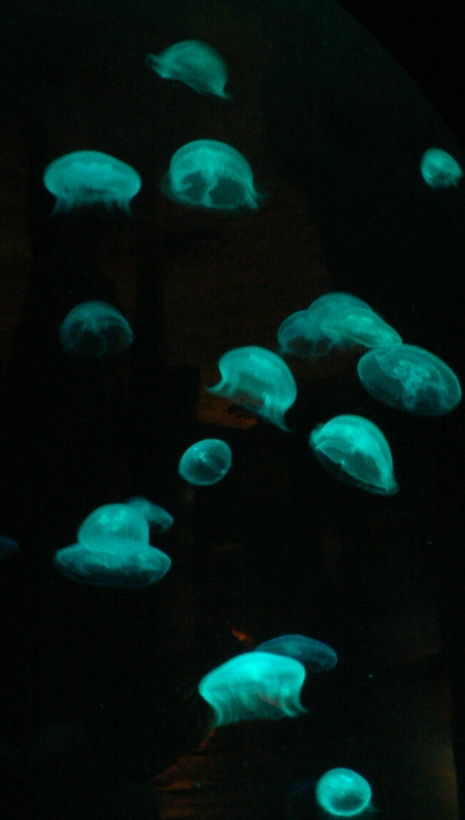 <![endif]>
A fish with a nose!
<![if !vml]>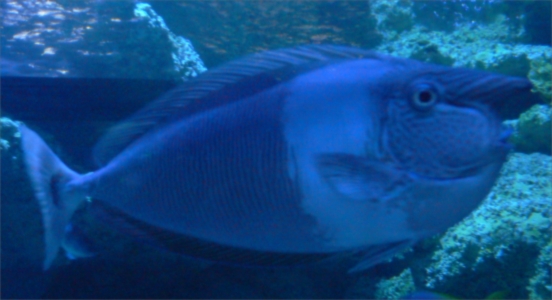 <![endif]>
The first days we were in Sydney, the LA Dodgers opened their season against the Arizona Diamondbacks! The games were sellouts, but we had not planned on going. In addition to banners all around town (here on the Pyrmont Bridge over Darling Harbor), our hotel and was filled with fans from Phoenix and Los Angeles, identified by their baseball caps and T-shirts. (That was probably why our room rates were a little higher the first few days.)
<![if !vml]>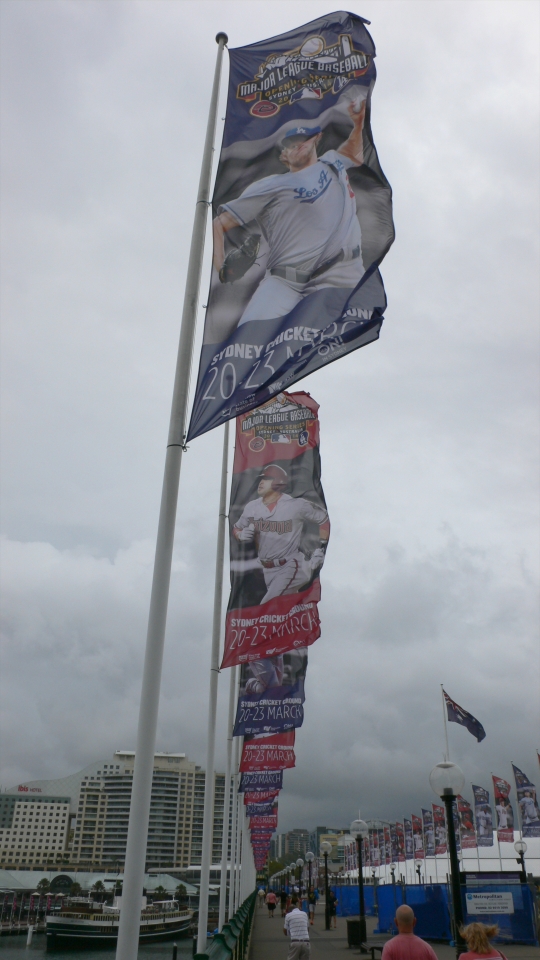 <![endif]>
The wet weather started that afternoon. We ate lunch that day at the Sydney Hard Rock Café. This is something Corey and Ashleigh are doing on their travels. Mine is eating at McDonalds (I made this country #17 on Wednesday). Emilie and Ron both enjoyed their lunch – she ate a lot of ice cream on this trip!
<![if !vml]>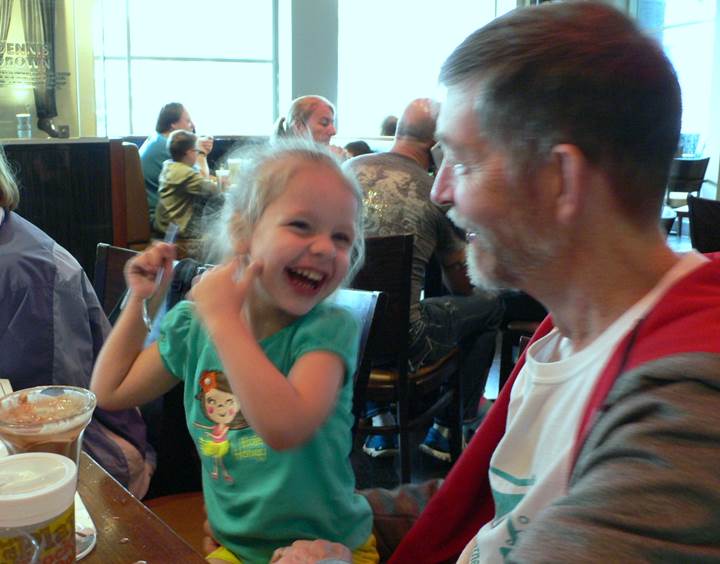 <![endif]>
Tuesday morning started at the Sydney Opera House. All around the various harbor walks were drinking fountains, something we do not usually find in our other travels in Europe. This design was very interesting – no basin to collect the water.
<![if !vml]>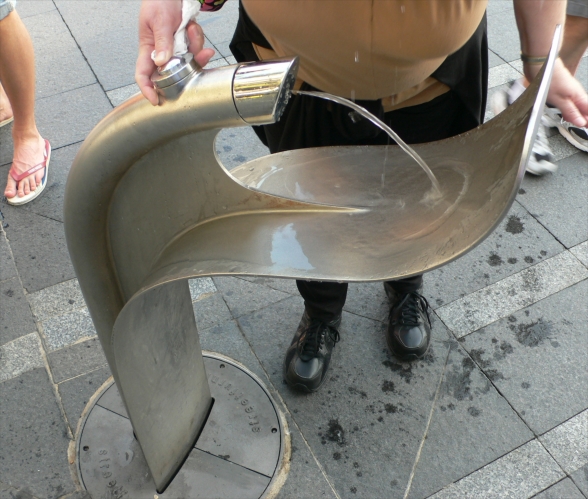 <![endif]>
Also along the shoreline was the Writers Walk. This was 50 or so plaques over a few blocks that commemorated authors who lived or spent some time in Australia. There were a few I recognized, including Mark Twain. Of course, whenever Emilie saw one of us taking photos, she had to do the same with her very own camera!
<![if !vml]>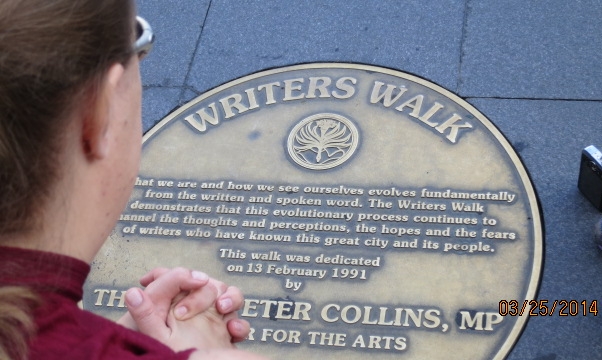 <![endif]> <![if !vml]>
<![endif]>
We attended the Babies Prom in one of the smaller concert halls. This series is a 30 minute play using a dozen instruments on stage. It is geared toward children from 2 years to 5 years, so Emilie was in the target audience. She was apparently too shy to sit with the other children, but afterwards, the musicians demonstrated their instruments (including a Theremin) up close, to all the kids. The theme for this show was "Space", so we heard excerpts from "2001: A Space Odyssey" and "Star Wars". I'm sure the parents reacted more to those themes than the kids!
<![if !vml]>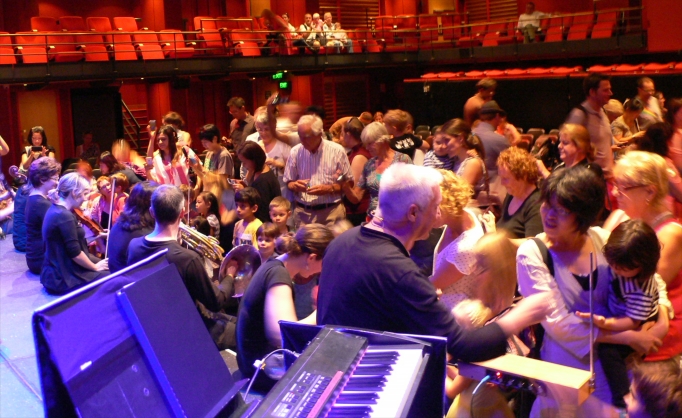 <![endif]>
After the performance, Corey, Carol, and I stayed to take the regular tour. I was very impressed with the design and construction of the building.
<![if !vml]>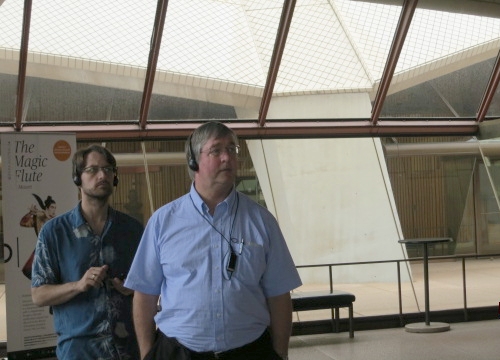 <![endif]>
Tuesday evening, we watched "Noises Off" in another theatre. Unfortunately, the main halls had no free performances the week we were there. This was a play Carol and I had seen some years ago, and enjoyed it again.
Wednesday was wet in the morning, but we took a bus tour anyway. A lot of other tourists thought alike, so the lower level was full. The rain was light, so we survived on the upper deck without getting too wet.
<![if !vml]>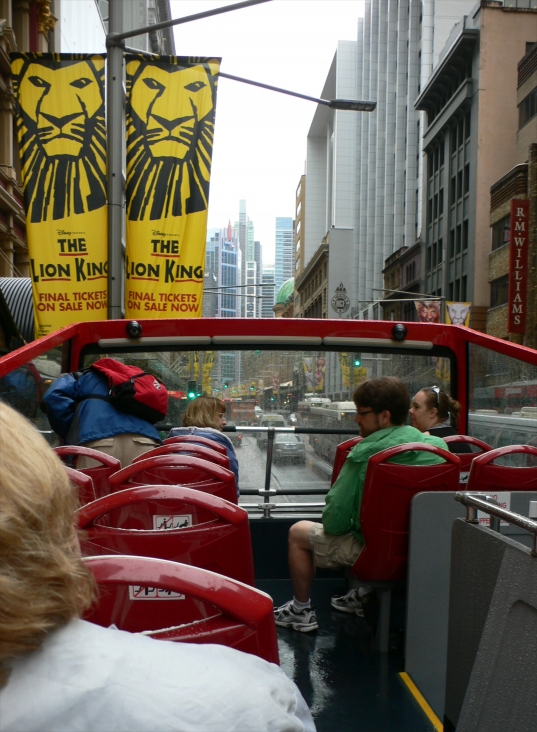 <![endif]>
The tour bus went all around the city, with a nice commentary all around. The main stop for us was Bondi Beach, one of the more popular beaches in Sydney. Corey and Ashleigh were worried that Emilie would not like the large waves, but they were not so big, and she had a wonderful time writing her name in the sand, leading Jean around, and letting the outgoing water bury her hands and feet in the sand.
<![if !vml]>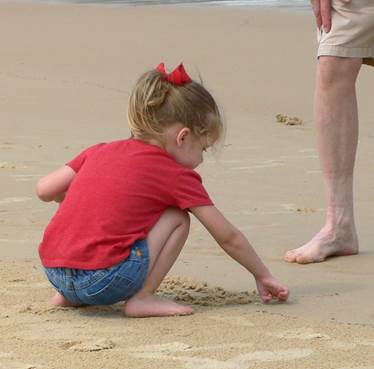 <![endif]><![if !vml]>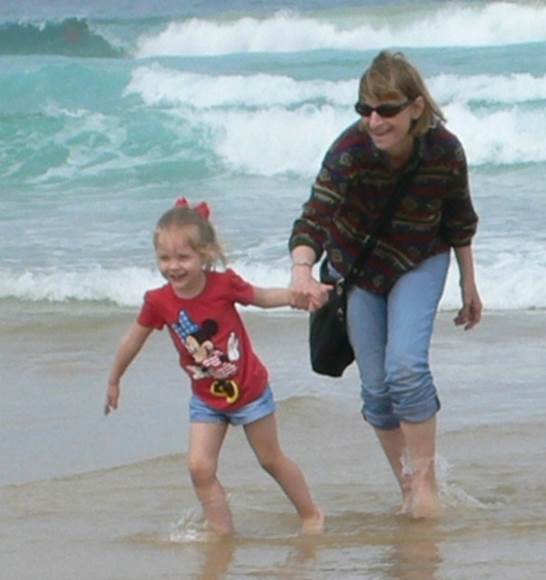 <![endif]>
<![if !vml]>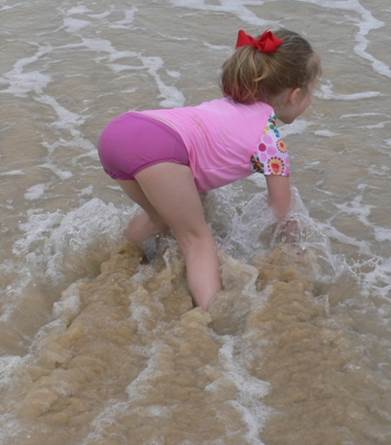 <![endif]>
On the way back from the beach, Carol wanted to stop at an art supply store she thought might sell rubber stamping supplies. We left the tour bus and walked toward the address we had. On the way, we passed by this Lutheran Church.
<![if !vml]>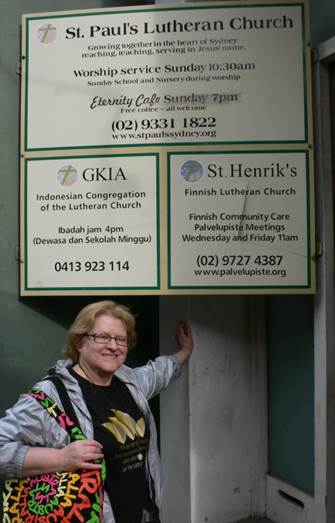 <![endif]>
On Thursday, we split up to take two tours. Ron and I went to the Blue Mountains and Jenolan Caves, while the rest of the group went on a similar bus to the same Blue Mountains, with a stop at a wildlife station to pet some koala bears. Since it was raining again most of the day in Sydney, the mountains were covered in low clouds and fog. At this stop, we were supposed to see a rock formation called "The Three Sisters", but we could not see more than a few hundred feet.
<![if !vml]>

<![endif]>
Carol's group was more fortunate, and the clouds cleared away just enough to see some of the mountains and the Three Sisters.
<![if !vml]>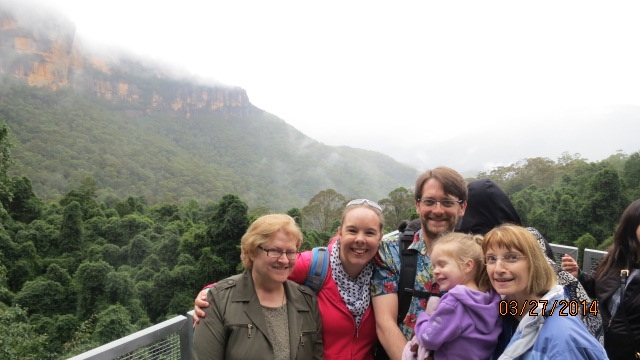 <![endif]>
<![if !vml]>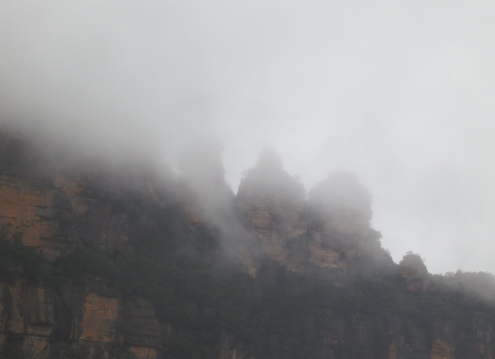 <![endif]>
After their Blue Mountain tour, they also went to a wildlife park where they got up close and personal with some Australian icons, including the opportunity to pet a live Koala. Emilie looked entranced!
<![if !vml]>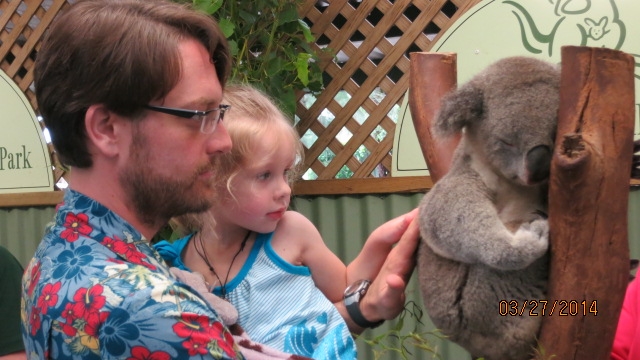 <![endif]>
The weather did not affect the cave tour. We had about 50 people in our group, with one tour guide. The tour advertised 900 steps, but they were all simple staircases, so the tour was pretty easy for everyone. The caves were very good, with lots of formations and good lighting. A few examples are in the next figures.
<![if !vml]>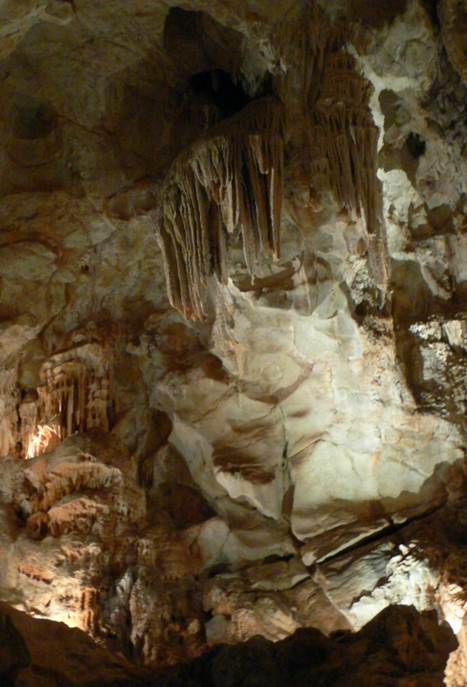 <![endif]> <![if !vml]>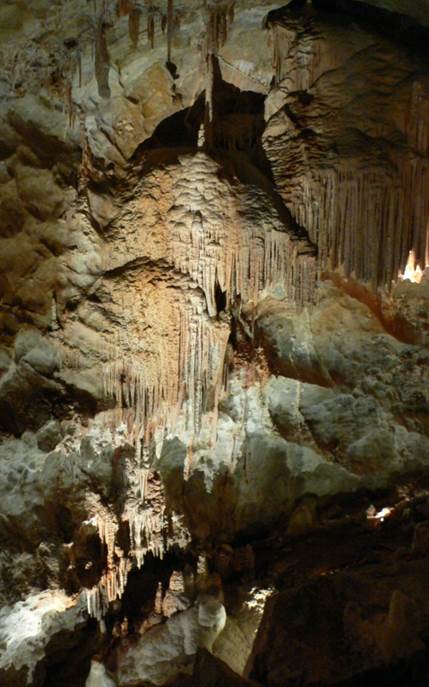 <![endif]> <![if !vml]>
<![endif]>
<![if !vml]>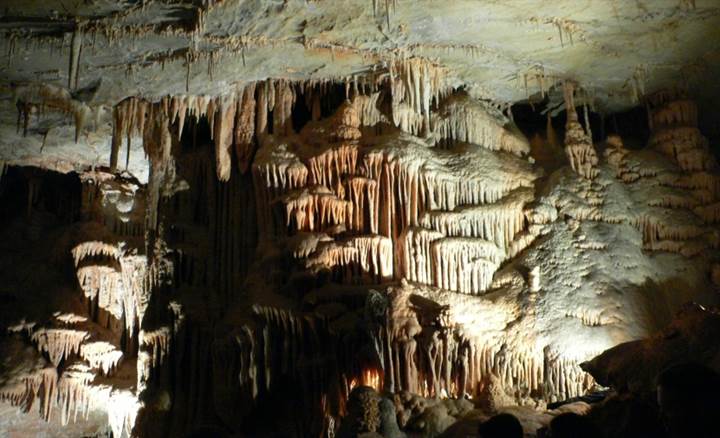 <![endif]>
Ron and I still think alike, even though we have lived in different cities for most of our adult lives. The formation shown below is a close-up of the formation above. I noted the periodic ripples in the flowstone, with a vertical period of about 10 mm. I didn't think they could be related to the above-ground weather, since they were so regular. After the tour ended, I asked the guide, and she gave me a pretty vague answer. Back on the bus, I was telling Ron this problem, and it turns out he had asked the guide the very same question a few minutes earlier!
<![if !vml]>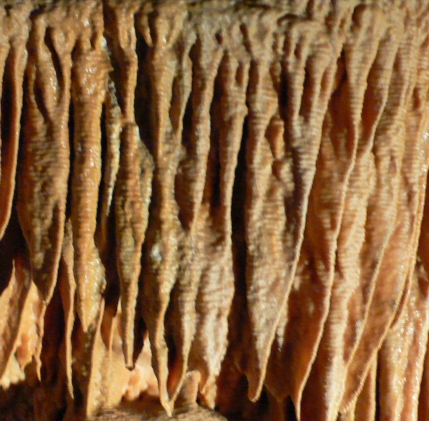 <![endif]>
On Friday, most everyone split up to catch up on things we wanted to do apart from the group. Corey and Ashleigh went to the Penrith white water rafting venue, used in the recent Summer Olympics, for some extreme rafting. (They enjoyed it, even though it ended with them falling out and a quick trip to the ER to look at a bruised ankle). Emilie was watched over by grandparents Ron and Jean, while Carol went on a backstage tour of the Opera House. I went to climb the Harbor Bridge, based on Pastor Ken Licht's recommendation. The experience took about 4 hours, including suiting up, practicing, walking, and lots of stops for photographs. The actual climb was not strenuous; the group of 14 here included several people apparently in their late 70's. The other climbers came from Florida, Australia, and one from Brazil.
<![if !vml]>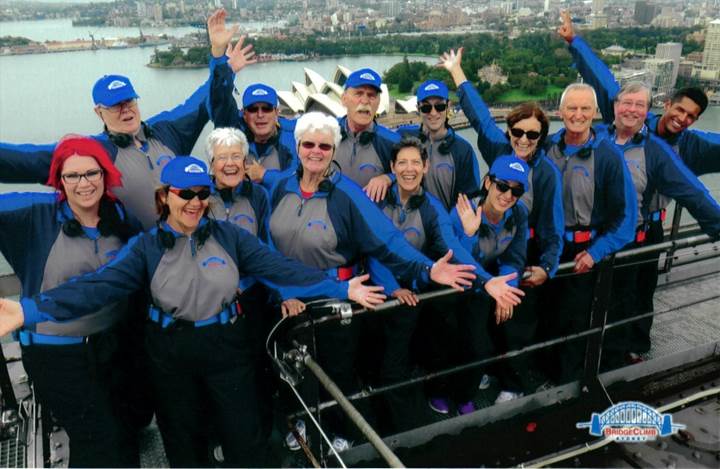 <![endif]>
We were not allowed to take cameras, probably since that would have added a few more hours to the tour, as well as preventing the guides from selling their photos. Of the ten or so photos they took of me, only one included the Opera House, where Carol was enjoying her tour. Click on the photo for a 9 second video; the guide did not warn us to prepare a speech, so it was a spontaneous ad-lib. However, it did seem appropriate enough for the occasion!
<![if !vml]>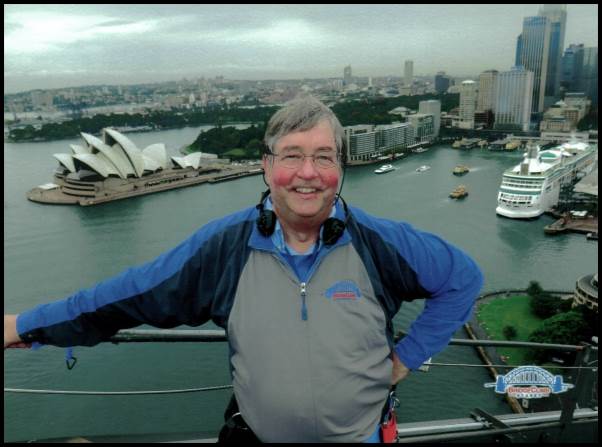 <![endif]>
After the bridge, I was able to finally eat at one of the fast food places I was seeing all week – Hungry Jacks. This is the Australian subsidiary of Burger King, with a very similar logo. It turns out the burger was not that great, so I went to a chocolate bar for a snack - a coconut shake. I then went to the Australian Museum (of natural history) to see its mineral collection. It was supposed to be good, but I was disappointed. They had some good local crystal specimens, but not enough to compare with some other world-class museums. Also, as seems all too frequent, there were significant errors in the display. They misspelled "Cheyenne Cañon", for example. They also chose to label the front side of a frosted-glass display and illuminate it with halogen bulbs from above. It was very difficult to read the labels! Finally, they described an optics phenomenon that I never heard of before. I'll have to research that to see what they really meant.
<![if !vml]>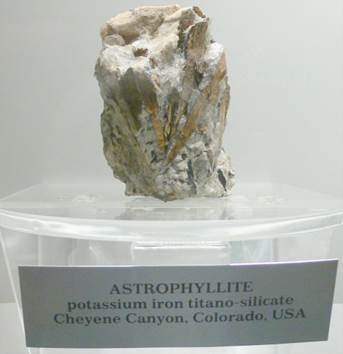 <![endif]> <![if !vml]>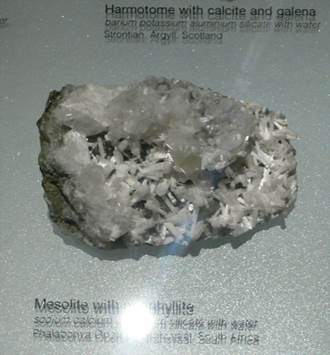 <![endif]>
<![if !vml]>

<![endif]>
After the museum (I did not see the rest of the museum, which Ron also toured that day, and reported that the birds section was quite nice), I went to visit St. Mary's Cathedral next door. It was actually very impressive, similar to some of the ones I've visited in Europe. It was not as old, of course, so it was much cleaner.
<![if !vml]>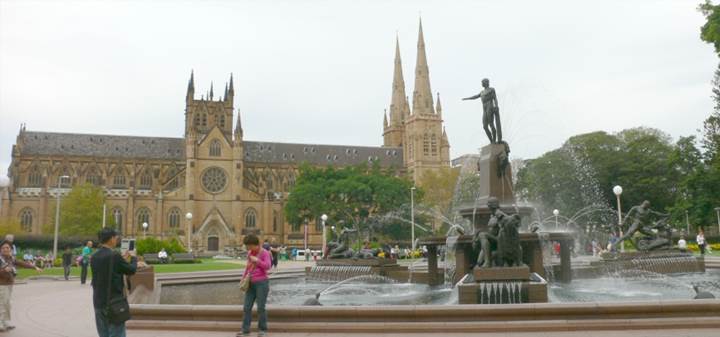 <![endif]>
In the meantime, Carol was enjoying her backstage tour of the Opera House, followed by an Australian breakfast. At one point, she got to stand at the conductor's podium and pretend to direct the orchestra in one of the most beautiful concert halls in the world.
<![if !vml]>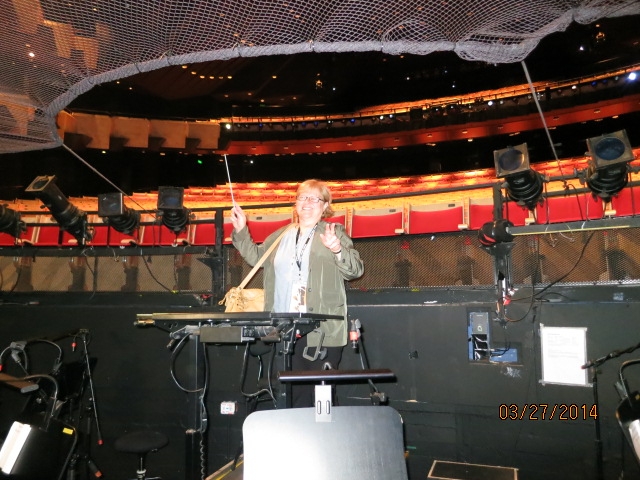 <![endif]>
After the end of a long day, and along week, we all found out that Ashleigh had hurt her foot at the water park and were at the hospital, so would miss Friday night's final group dinner. The rest of us ate at an upscale food court. Until they got back, Carol and Emilie played with cut-out dolls in our hotel room.
<![if !vml]>
<![endif]>
We returned to San Diego on Saturday morning, but not before hearing that my mother had taken a turn for the worse in Colorado. Carol and I flew out to see her only three days after the long flight home, to say our final goodbyes. Fortunately, her fall occurred on the very last morning in Sydney, practically as we were heading to the Sydney airport, so we were able to enjoy this wonderful family trip.
Thank you, Corey and Ashleigh and Emilie and Ron and Jean, for sharing this trip with us, and congratulations on your Ph.D.s!
---
All text and images are owned by Stellar Products, 1992-2014. Any use by others without permission of Stellar Products is prohibited.
Links to other Stellar Products pages: