France 2000

We decided to take our nephew Corey to France upon his undergraduate graduation. I recently found some of the original photos, so I scanned some of them. This is not complete, but a representative sample, to prove we were there!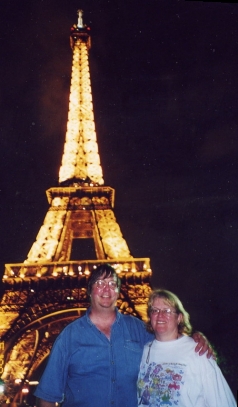 The Eiffel Tower at night. We could only get to the first level on the elevator - the lines to get to the top were too long.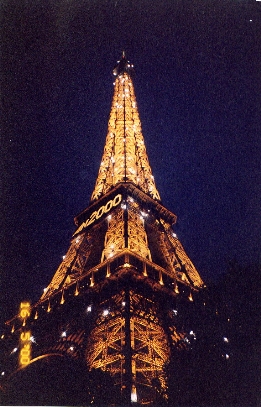 The Eiffel tower was recently upgraded with lights to celebrate the new millennium. Every 15 minutes or so, strobe lights would flash at random, making the entire tower like a firework.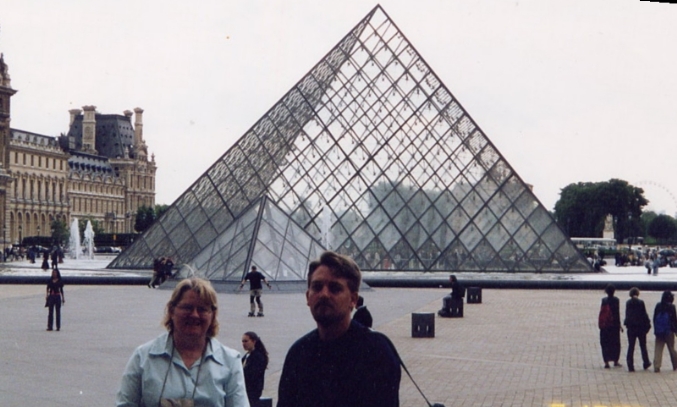 \
The weather was terribly hot during our visit, but the museums were all air conditioned, including the relatively new I.M. Pei-designed entrance into the Louvre. We spent most of one day at the museum.
We could not get too close to the Mona Lisa, but Carol struck a similar pose.
Also in the Louvre was the ancient Code of Hammurabi engraved on diorite, a very hard stone. My hand is shown in front, and since the image is nearly life-sized, incredibly small details are shown. This was engraved 3000 years ago, an the entire stele is 7 feet tall, covered with this small writing. How many people did it take, and what kind of tools did they use to do such fine work and straight lines?
A real highlight was the beautiful stained glass windows of Sainte-Chapelle, very close to Notre Dame. Even better was an evening concert I attended of a string quartet playing Vivaldi's Four Seasons. The start of the concert was still during daylight, making an incredible setting. I arrived early enough to sit in the front row of chairs set up on the floor only 10 feet away from the musicians. One of the most memorable times in my life.
One of the many miles of underground graveyards around Paris, a catacomb similar to those we have seen in Italy.
After four days in Paris, we went to Rouen and then to Saarbrucken, across the border into Germany. Our last night was spent in a small hotel across from the city center in Chalons-en-Champagne, with a bottle of Champagne for dinner. A really good-tasting bottle!
---
All text and images are owned by Stellar Products, 1992-2010. Any use by others without permission of Stellar Products is prohibited.
Links to other Stellar Products pages: