Pacific Coast Cruise from Vancouver to Los Angeles - 2010
Our first cruise on a major line was chosen for its convenience. We had a week of vacation, and didn't know where to spend it. We always thought of trying a real cruise, and since we planned this less than a month before its departure, we got an outside balcony at a price of an inside cabin - a real bargain. We simply drove up to Los Angeles and flew to Vancouver, and drove back home after the cruise. Unfortunately, we were delayed getting into Vancouver because of a canceled flight, so we didn't get a chance to see the city.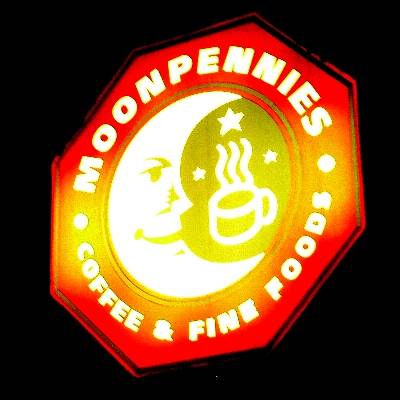 Strolling around at night in Vancouver, we noted the typical number of coffee shop locations. This cute play on the logo and the name was seen on a store across the street from a Starbucks.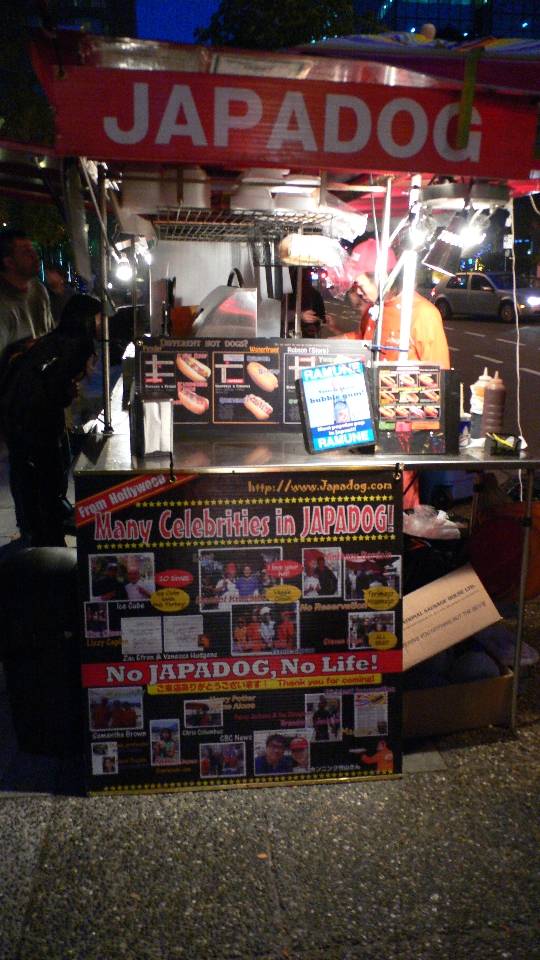 Vancouver had a large Asian population, and one interesting stand claimed to have been visited by a large number of celebrities, including Samantha Brown, Anthony Bordain, Steven Seagal, and Ice Cube.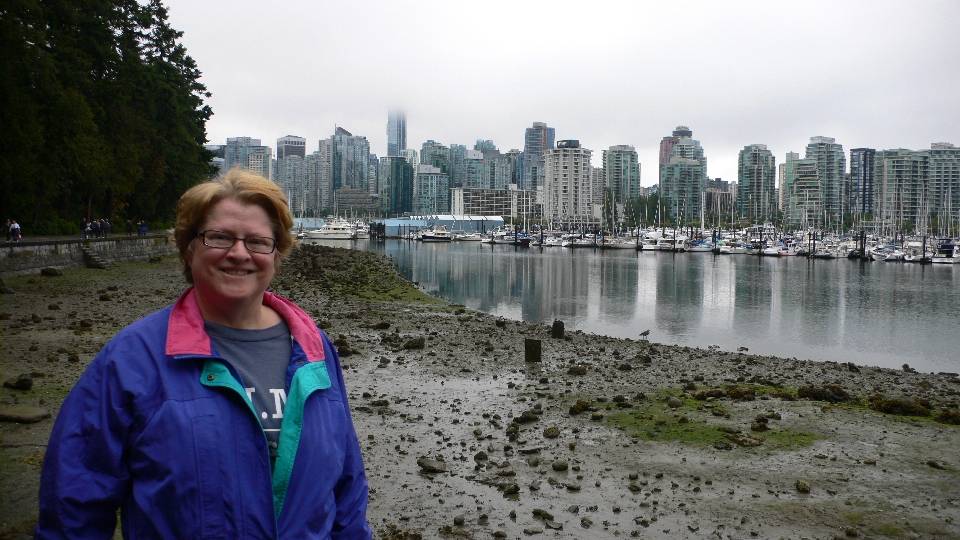 On Sunday morning, we strolled around Vancouver to Stanley Park during a light mist. The large number of glass-windowed buildings are apartments lining the waterfront.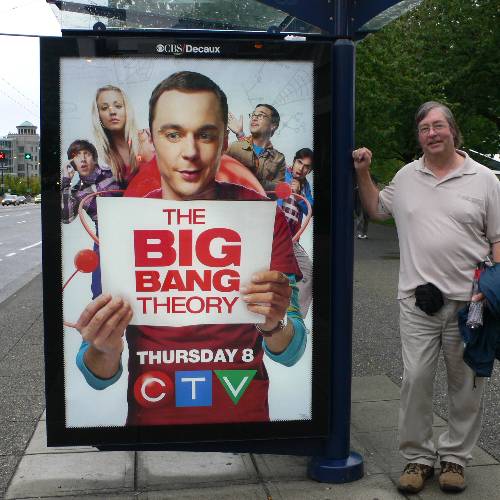 We saw this particular poster on billboards everywhere. It must be more popular in Vancouver than in San Diego.

The Norwegian Pearl was the largest cruise ship we have been on. Our room was located one flight of stairs below the all-you-can-eat buffet, open 18 hours.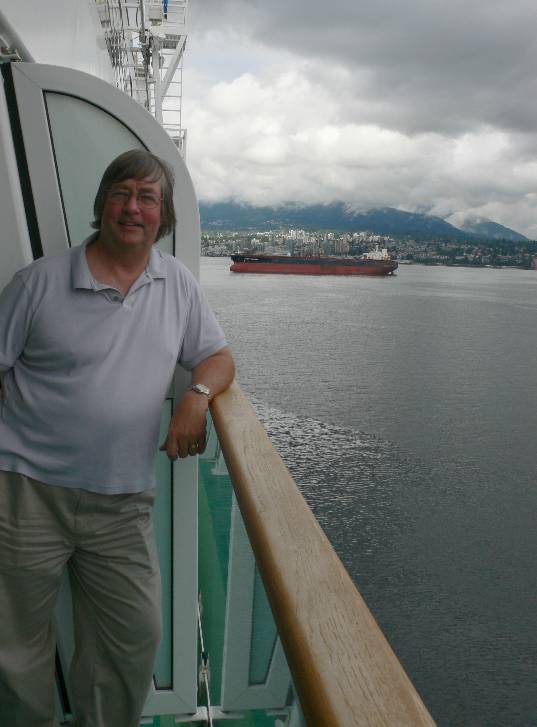 Leaving Vancouver, showing off our balcony room.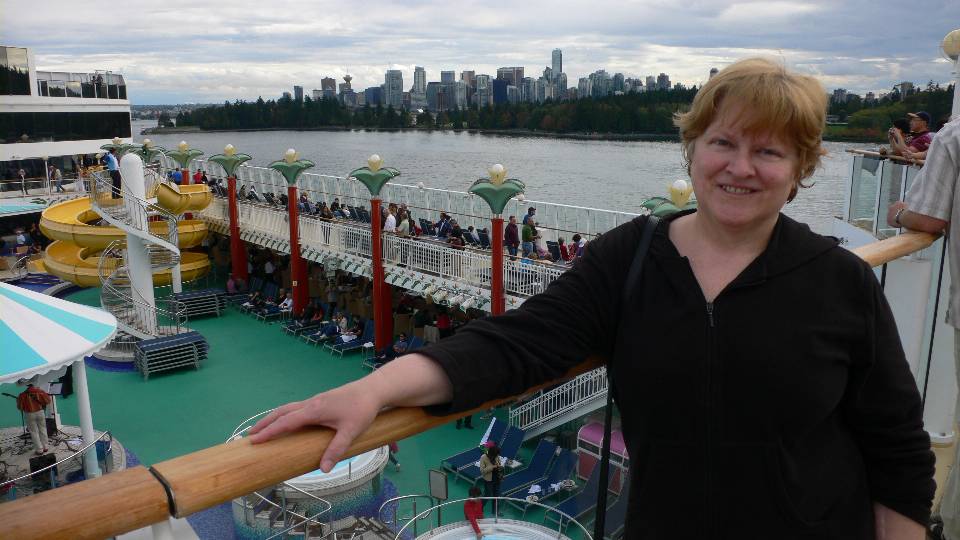 There were activities outdoors whenever there was good weather. There were four hot tubs that were usually pretty empty, until the last night, as we approached warmer weather. We did try it our first night in Vancouver, and it wasn't too bad, as long as we dried off as quickly as possible!

Our first port of call was in Astoria, Oregon, where the Columbia River enters the Pacific Ocean. The museum explained a lot about the river's history as a shipping channel. The weather was too foggy to see much of Astoria, including their "famous" Column.
Fort Clatsop was more interesting. This is a re-creation of the fort used by Lewis and Clark to spend a winter near the Pacific.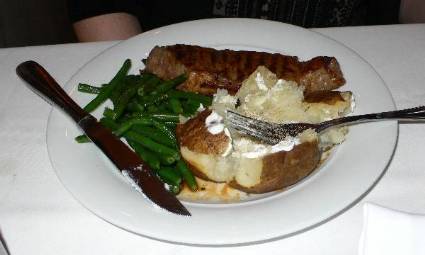 While the buffet offered all the food we could possibly want, we did go to the main restaurants a few times. The portions were much smaller, which was a good thing!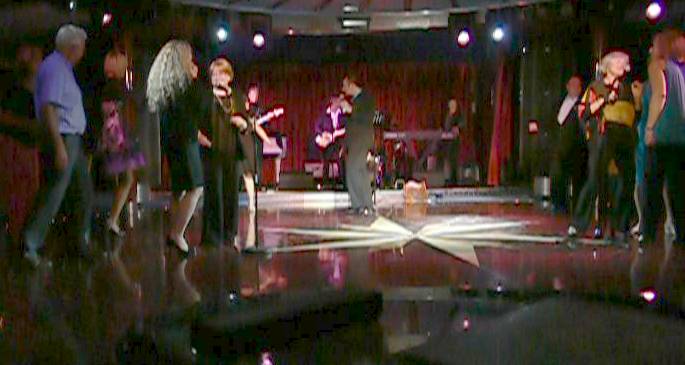 One of the activities that Carol enjoyed the most, was karaoke. Click on the image to bring up a video of this singalong. The other karaoke venues was a smaller bar, with typically five to ten people watching Carol and three other people perform over and over. One was a 6 year old girl, who was dressed in sequined dresses and continually coached by her mom. I think she was trying to practice for some other competition. Most of the cruisers were from Canada, and most were retirement age. In addition to this kind of activity, there was a "Newlywed" and "Dating" game shows with audience members, and some professional entertainers: Sharkbait (jugglers), a comedian, and the Second City troupe. They were all entertaining, but the Second City show was our favorite show. This was because this improv group selected Carol and I as subjects for one of their skits! Near the start of the show, one of the performers came down to our front-row seat and interviewed us in front of the 1000-seat auditorium. They asked us how we met, what we thought about each other, and our hobbies. They compiled this into a hilarious ten minute skit incorporating square dancing, telescopes, and music! Too bad photos or recording was not allowed.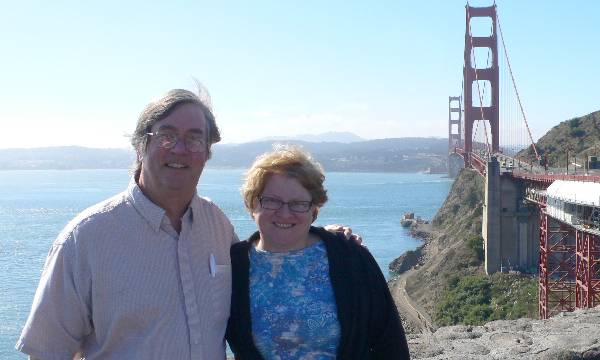 One of the excursions included a trip to Sausalito via the Golden Gate Bridge. The main excitement here was when the tour guide forgot to come back to the bus, so for 30 minutes, we all thought she had a heart attack somewhere!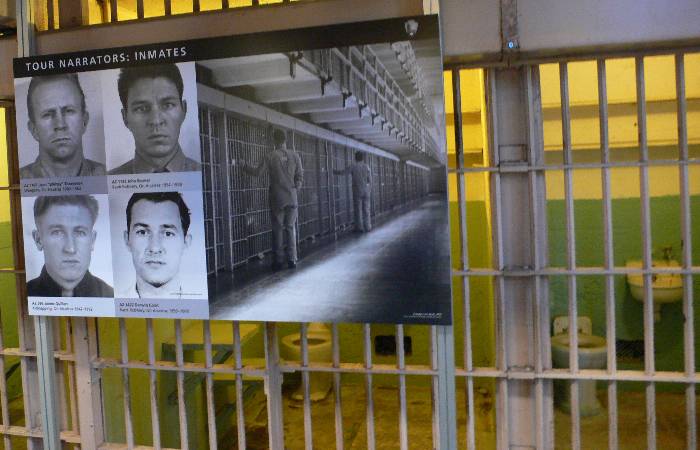 The audio tour at Alcatraz was interesting because it was narrated by former guards and inmates.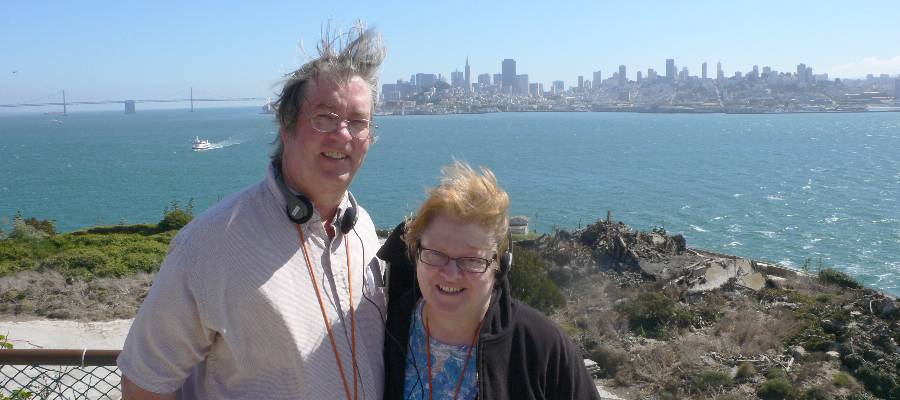 It was windy on Alcatraz, but not too cold.
As we left San Francisco, we wen under the Golden Gate Bridge. The moon appeared trapped like an inmate at Alcatraz.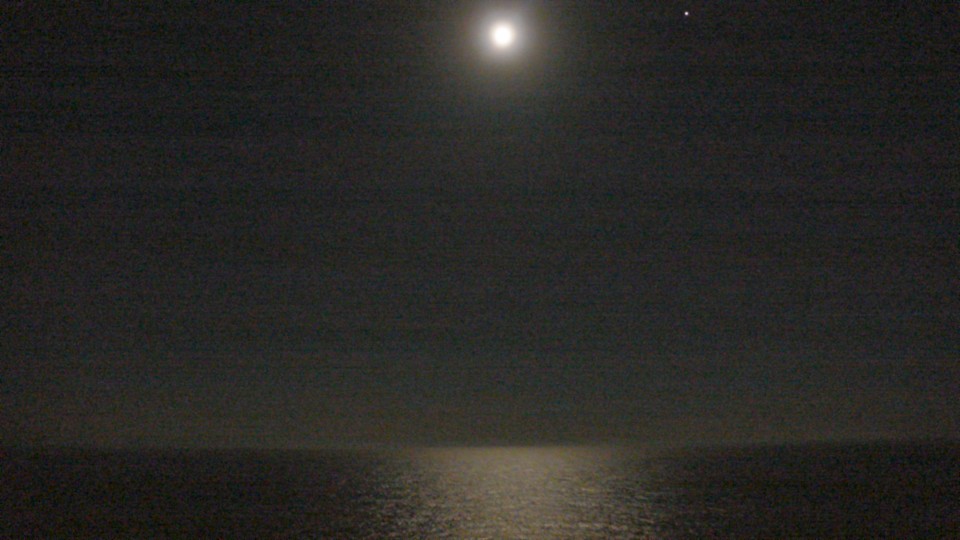 The seas were pretty calm everywhere. There were too many lights to see many stars, but Jupiter was visible near the moon.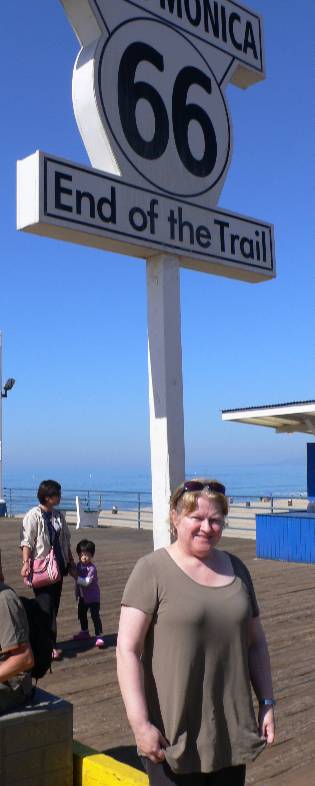 After we disembarked at Los Angeles, we made a quick stop at the Santa Monica Pier. Carol remembers driving out on Route 66 as a young girl when she moved to California from Chicago.
The cruise was interesting, and we might do this again. Lots of people were wondering out loud, why Astoria was selected as a port. If we do this again, our decision will be heavily based on where we stop!
Return to vacation list
---
All text and images are owned by Stellar Products, 1992-2010. Any use by others without permission of Stellar Products is prohibited.
Links to other Stellar Products pages: