Don' Personal Mementos
(Updated May 2014)
My scientific career is detailed in another web page (Don's Science Life).  Here are some other mementos that I have collected.
*******************
When my mother passed away in April 2014, we found out that she had saved some of our baby clothes in a cedar chest in her bedroom.  Among her mementos are the first pair of shoes I wore as a baby.  My mother was always well organized; she not only saved the gift tag from my Uncle Les and Aunt Betty, but also the manufacturer's product insert and the transparent plastic lid that covered the box.
<![if !vml]>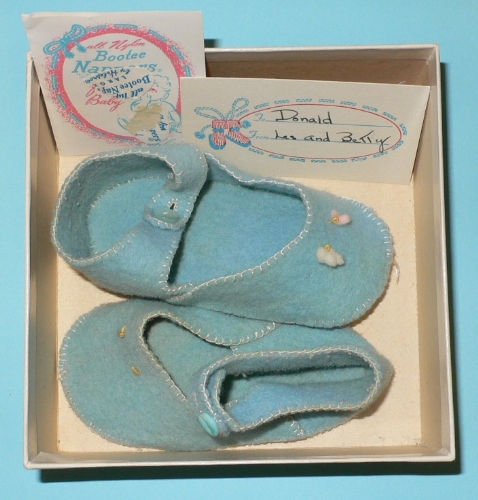 <![endif]>
I have kept this whistle mug since college.  I vaguely remember drinking from it when I was very young.  By blowing into the bird's tail, the whistle sounded from the bird's mouth.
<![if !vml]>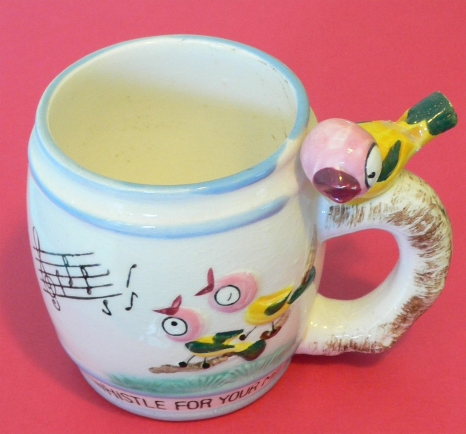 <![endif]>
My Aunt Mabel gave Ron and I these tile mosaic kits for our birthday in 1961 (my mother labelled the back side, of course).  The dish came with loose tiles, and we could arrange the different colors in any pattern we wanted.  After gluing the tiles in place, we used grout to fill in the gaps.  I remember this was really a lot of fun!
<![if !vml]>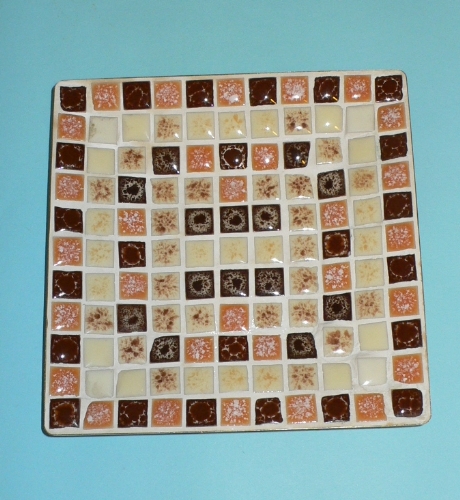 <![endif]>
My Aunt Mabel gave Ron and I identical coin banks for our birthday in 1962.  I've never had much money in it, but always enjoyed looking at the country boundaries.  It is even more interesting fifty years later, when so much has changed.  Some of the airlines on the base still offer flights, and I've taken some of them around the world.
<![if !vml]>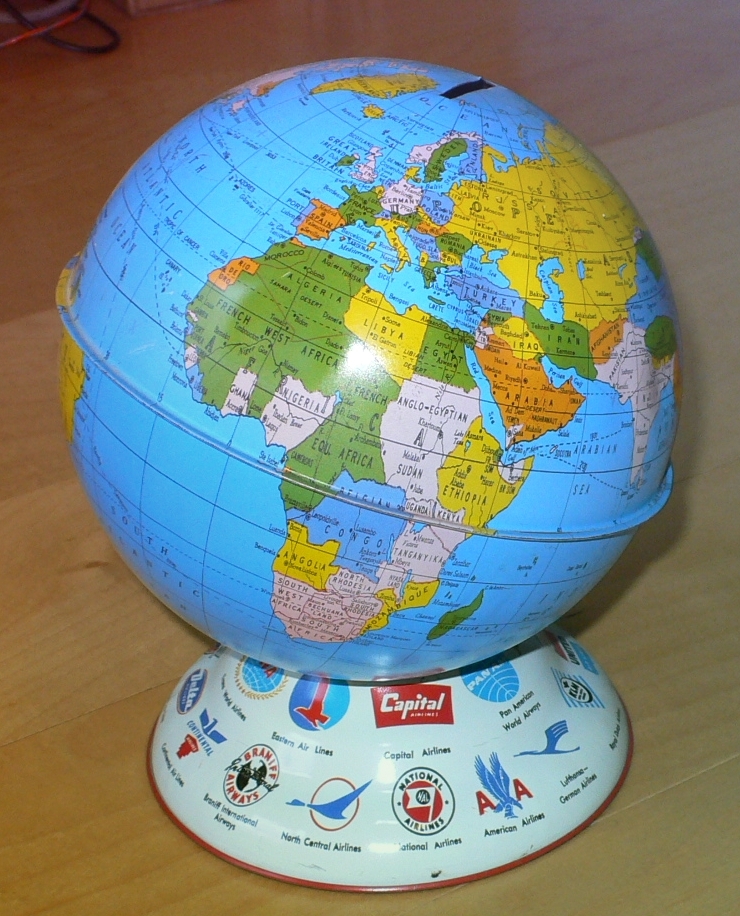 <![endif]>
Starting in high school and through college, I read a lot of science fiction, mainly short stories.  I did read a few novels, including the "Foundation" trilogy by Isaac Asimov.  I tried to compare them to the future predicted by the "I, Robot" series.  I wrote a letter to Asimov in college, and also asked about where his son went to college (since he was about my age), and a few other minor things.  I asked for a handwritten reply, hoping to get his signature.  I was delighted to get this reply from him a few weeks later!
<![if !vml]>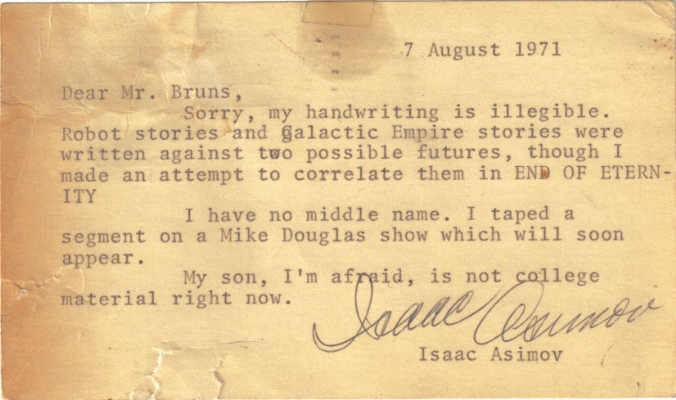 <![endif]>       <![if !vml]>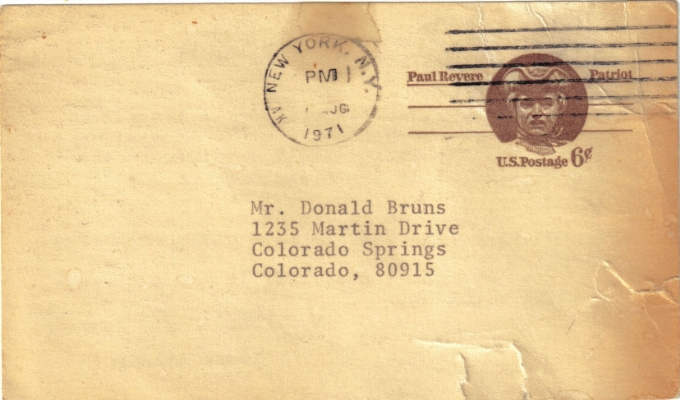 <![endif]>
While I grew up in the dry weather in Colorado, I went to graduate school in Urbana, Illinois.  On only my second day there in June, I had to buy an umbrella!  The weather was humid and hot, so my second purchase was this three-dial weather station; humidity, temperature, and barometric pressure.  Since leaving school, I've used this in every office until I retired.
<![if !vml]>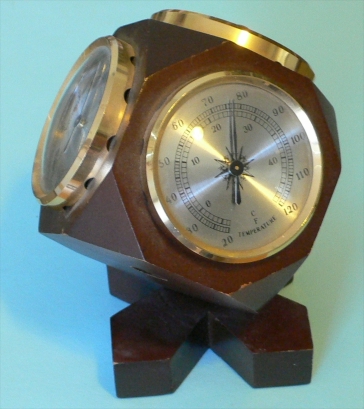 <![endif]>
My first summer in Urbana was spent taking some pretty easy classes, so I had plenty of time to socialize.  One friend was from Effingham, about 100 miles south.  Every fall the nearby town of Altamont had a German festival, which we attended.  The bucket was how they sold beer.  I only had one bucket, but it lasted all afternoon, if I remember correctly!
<![if !vml]>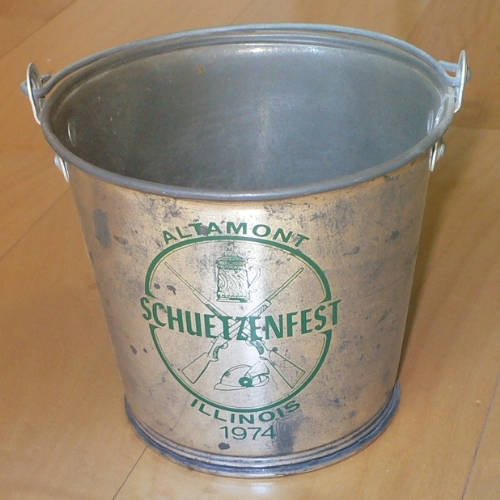 <![endif]>
One of the major celebrations early in graduate school was passing the preliminary exam that were required to continue toward my doctorate in physics. I passed the test on March 8, 1977.  To celebrate, a few undergraduates who I was close with, presented me with this small planter.  I was never able to get plants to grow indoors, but I kept the Cheshire cat.  They said that I was always smiling, and this was how they acknowledged that!
<![if !vml]>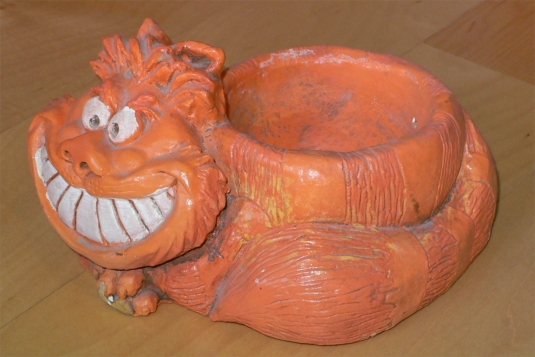 <![endif]>
Another friend gave me this little refrigerator magnet, which I've had in my kitchen for 40 years.
<![if !vml]>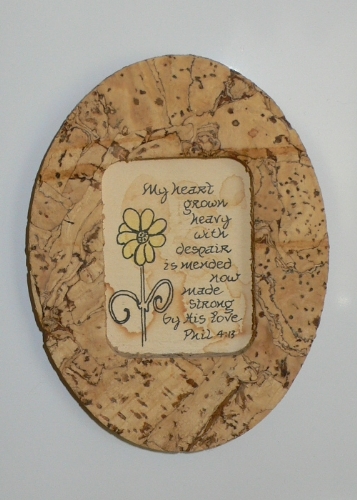 <![endif]>
I was always interested in hiking and photography.  One day I was hiking in The Crags region of Pikes Peak, and took this bird photo.  I later found out about the bird photo contest in "Science Probe" magazine, and entered the winning image. The prize was a new 35mm SLR camera.
<![if !vml]>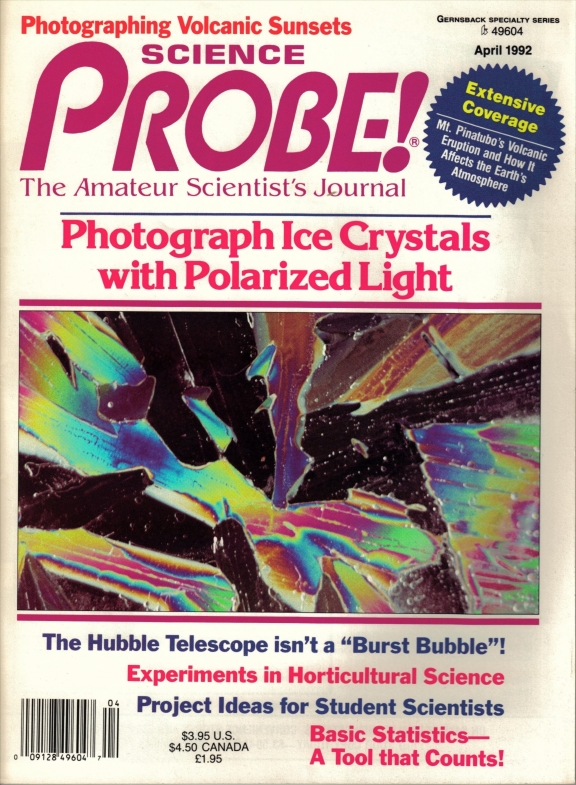 <![endif]>      <![if !vml]>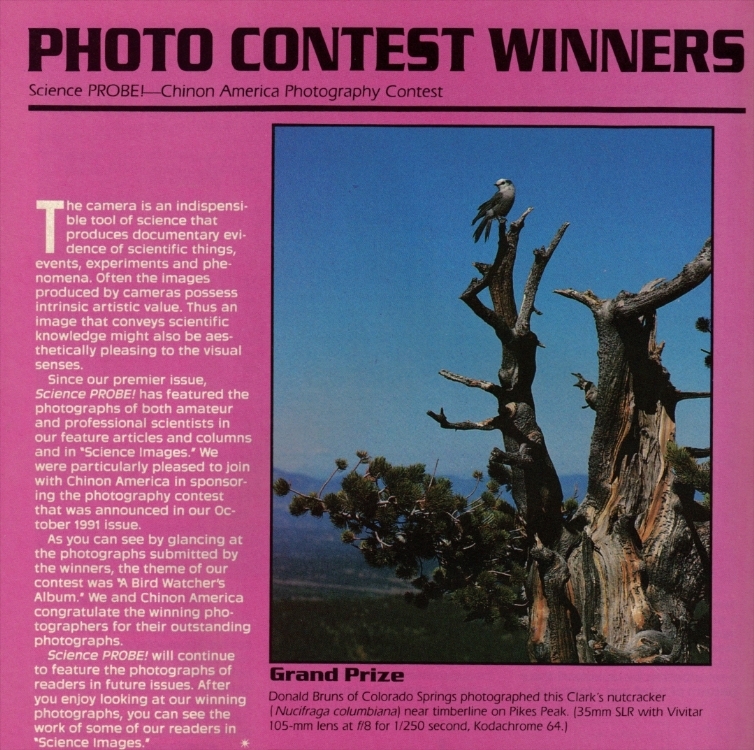 <![endif]>
After being introduced to foreign travel at Trex, my wife and I started taking more overseas trips.  One of the early trips (1998) was a tour to the Holy Land, with side excursions to Jordan and Egypt.  As we were entering Petra, there were some craftsmen making sand-filled jars of all sizes and with scenes or patterns.  I liked this one, and brought it back without breaking it.
<![if !vml]>
<![endif]>
Another tour was to Italy in 2002.  In the Sorrento area, we had time apart from the tour group, and went to a district that made inlaid wooden boxes.  The detail was amazing, and we bought this box for ourselves, and a music box for my mother.
<![if !vml]>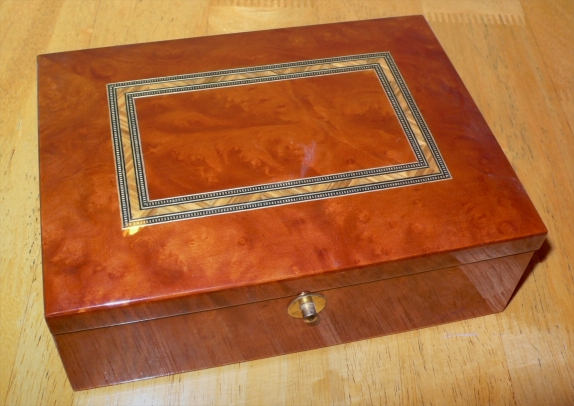 <![endif]>
In 2006, my cousin and I toured Germany and Poland.  Near the Cologne Cathedral was a honey store selling this liquor.  I found out recently that you can buy it from a well-stocked liquor store in San Diego.  I like the dark fir honey from Germany, and this beverage was also good, in very small sips.
<![if !vml]>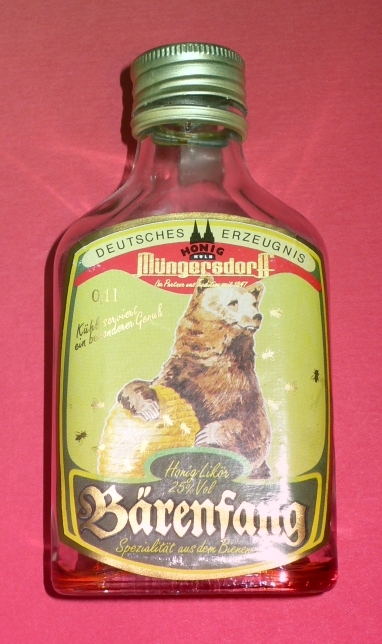 <![endif]>
On the Poland part of the tour, we went to the original location where gingerbread was invented.  Torun was on the itinerary because of the Copernican museum, so this was a bonus.  A year later, I mail-ordered some more of this gingerbread and some gingerbread from Germany, and have to say that the German variety tastes better.
<![if !vml]>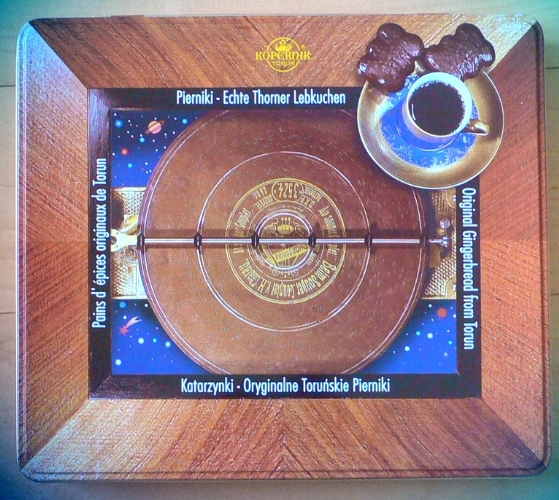 <![endif]>
In 2007, my wife and I went on a musical tour I planned through Germany and Austria, seeing the homes of Beethoven and Mozart.  These chocolate "Mozart-balls" were sold all over Austria, especially Salzburg.  Different vendors had slightly different flavors, but these are supposed to be the oldest.  I was never sure how these became associated with the musician, but they are popular and tasty.  On the same trip, I located a small liquor store that sold custom-blended schnapps.  This flavor was very good, and not available anywhere else.
<![if !vml]>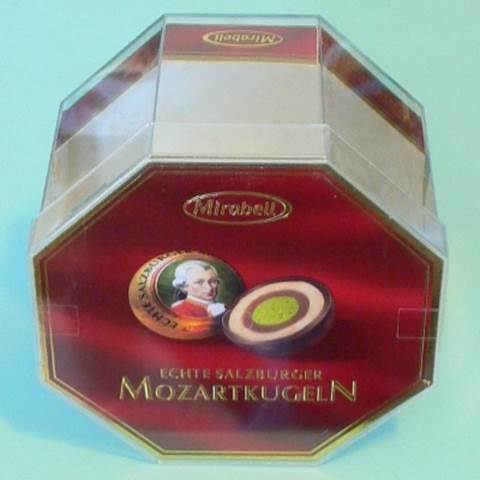 <![endif]>         <![if !vml]>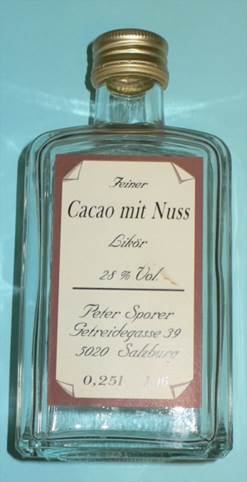 <![endif]>
I subscribed to "German Life" magazine, which always has interesting articles (most in English).  A few years ago, they held a story contest to write about experiences connected with your German ancestors.  I submitted a short story, and while it did not win the prize, it was included in the published book.  I wrote about visiting my father's ancestral church and my mother's ancestral church, coincidentally only a few miles apart in northern Germany.
<![if !vml]>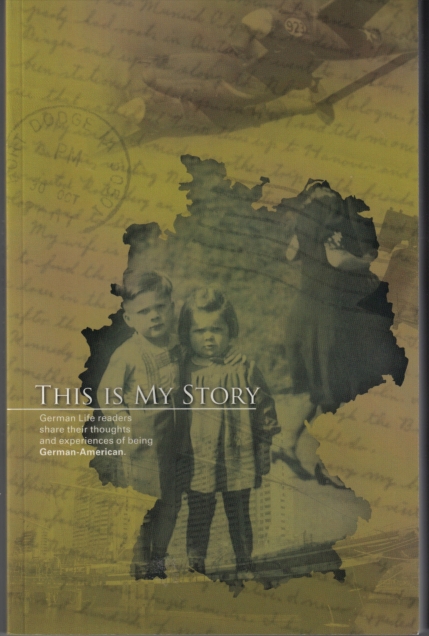 <![endif]>
Back in San Diego, I still enjoy hiking.  I organized a series of Saturday hikes a few years ago, the first of which was shown on the front cover of the monthly newsletter.  I plan on doing more of these, now that I have more time.
<![if !vml]>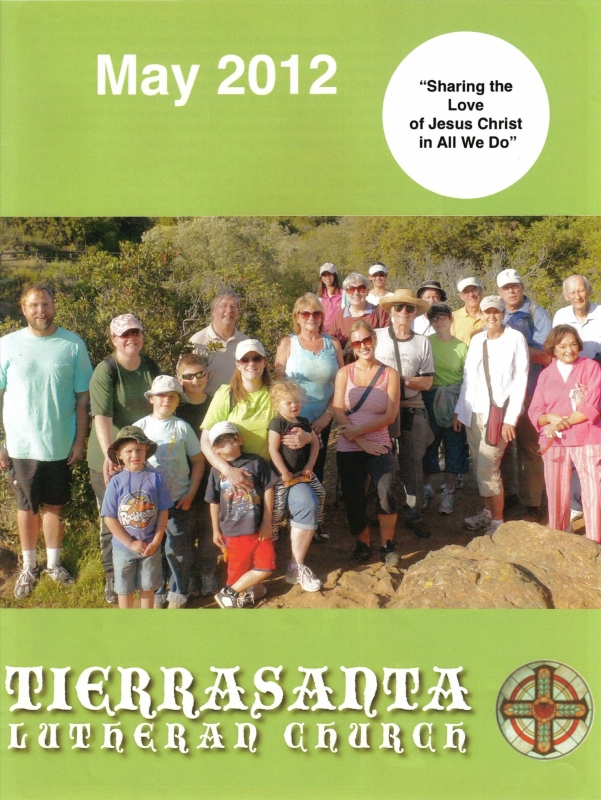 <![endif]>